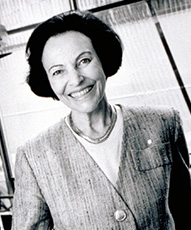 Dear Friends and Neighbours
It is with deep sadness that we announce the passing of Mrs. Sonja Bata.
Mrs. Bata's passion and affection for our community that welcomed her as a young bride as she arrived in Batawa motivated her to launch the Batawa Development Corporation as its founding Chairman in 2005.
Mrs. Bata's vision is to grow Batawa into an exemplary rural village that attracts and inspires those who are committed to creating a sustainable and safe community that engages and connects people with one another. We will greatly miss her, her leadership, her passion, and we will continue to strive toward her vision for Batawa.
If you would like to share your thoughts and memories about Mrs. Bata, there will be a book of condolences to sign at the Batawa Development Corporation office located at 81 Plant Street Batawa ON. Messages can also be sent by email to cdc@batawa.ca
Sincerely,
Batawa Development Corporation and Batawa Ski Hill
Articles honouring Mrs. Sonja I. Bata: