POSTED |
October 20, 2014
New Playground for Batawa's Children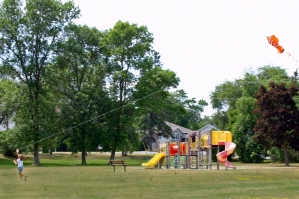 In October 2014, the City of Quinte West will be removing the old playground in Batawa. The playground has long outlived its designed lifespan of 10 years. The Batawa Lions, along with a community playground committee consisting of several local residents, have been working with the city to design a new, natural playground to replace the existing playground. This new playground will not have the standard metal and plastic structures that are normally associated with modern playgrounds. Instead, this playground will be the first of its kind in the region. With the exception of a few parts, it will be built with all natural materials and products. It will utilize landscaping to create natural hill slides, gardens, play areas and even an outdoor classroom for Sacred Heart to use for Environmental Studies. This playground will not only be environmentally friendly, the maintenance costs will be lower and instead of a life expectancy of 10-12 years, it is 20-25 years, offering substantial savings to the city.
The City of Quinte West is providing a substantial portion of funding through its playground replacement program, but additional funds are being raised by the Batawa Lions and the playground committee to further enhance this playground.
Construction will begin in November 2014 of the new natural playground and finish in the spring 2015. In March 2015 the playground committee will be having a sponsorship drive where people will be able to sponsor trees and park benches.
It is our hope that this new playground will become the pride of Batawa and the envy of other communities.
For more information, to donate or become involved in this project please contact Jeffrey Moorhouse (Batawa Lions Club President) at jt_moorhouse@hotmail.com.