It's an Adventure at Summer Camp in Batawa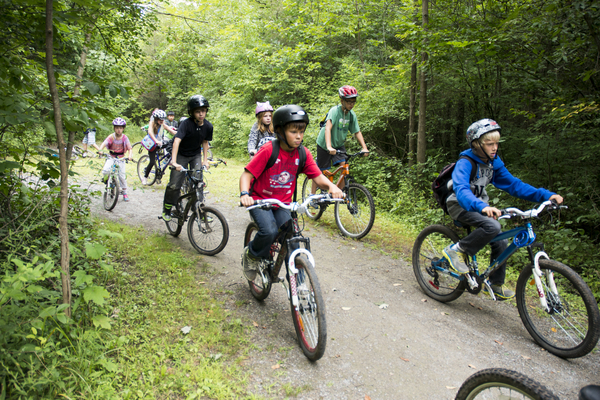 Batawa, ON – The end of the school year means one thing for the staff at Batawa – the beginning of summer camp!
Run in cooperation with Loyalist College, the summer day camps in Batawa saw numbers climbing toward 200 campers over the course of seven weeks last year. This summer, they aim to cross the 200 mark.
"This is my first time working at Batawa Ski Hill and I can already see how much fun it's going to be," says Brianna Hayward, a third-year Trent University student hired as lead counsellor for the summer camp program.
"I've worked at summer camps all over Canada for the past seven years, and I want to bring that experience to Batawa. Last summer, I was lucky enough to spend three months in Alberta with a camp of nearly 400 campers, and two summers ago, I worked in Nova Scotia with children who have hemophilia and other bleeding disorders," says Hayward.
Throughout July and August, the one week day camp programs cater to different age groups, and include nutritious lunches made onsite by the Batawa Grill's popular chef, Nelson Bridger.
Kids 6-8 years old can join "Eco Explorers," "Dino Days," or "Hike 'n Bike." The older group (9-12 year olds) can join "Eco Adventurers" or their own "Hike 'n Bike" program.
"Our goal is to combine outdoor learning with a lot of fun and adventure," says program director Morgan Casement, an educator who serves as administration manager at the ski hill. "We want to make this the best summer these kids have had, and keep them talking about Batawa Ski Hill all year long."
In keeping with Batawa's focus on sustainability and the natural environment, kids will enjoy interactive and educational outdoor adventure while learning about the eco zones in and around Batawa, wilderness survival, and identification of vegetation and wildlife. Campers will dig up a 40 foot T-Rex fossil, set up camp sites, build natural shelters and learn hiking and back country exploration safety and ethics.
"The programs are definitely very hands on," says Casement. "I have a team of five enthusiastic counsellors this year who are going to keep the kids moving and make learning lots of fun. We'll know they've succeeded when parents pick up some tuckered-out kids at the end of the day!"
To register, call 613-969-7900 or visit